This past Friday we decided to honor the Bluth family by overindulging in alcohol. What better way to celebrate a fictional family's woes? I printed some cue sheets before leaving work. This is what they looked like at my office desk.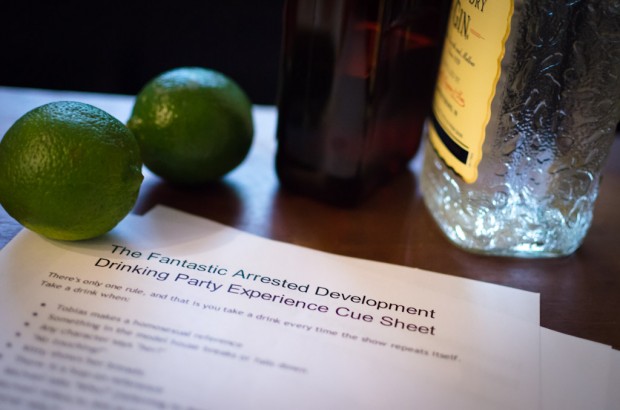 I decided to make some bean dip since my friends have annoying dietary restrictions (just kidding) and it happens to be A) vegan B) lactose free and C) gluten free
I put 4 jalapenos in it, but removed the seeds from 3 of them. Elissa managed to get lots of pieces with seeds because she is unfortunate and down on life.
I also made some bread for the cheese.
Wang showed up early and surprised me while I was doing my pilates workout.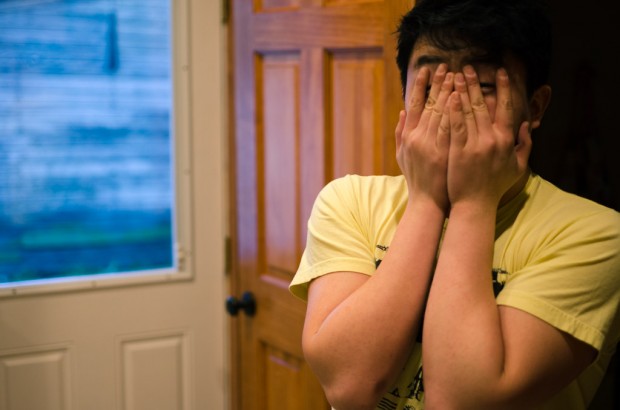 Apparently Tom and Jenelle having matching helmets now. Things are getting weird.
Here is Andrea and the food. I decided to cut up carrots and celery last minute in case anyone was still clinging to their New Years resolutions.
This is what the bread looked like after it was baked, sliced, and placed near the cheese.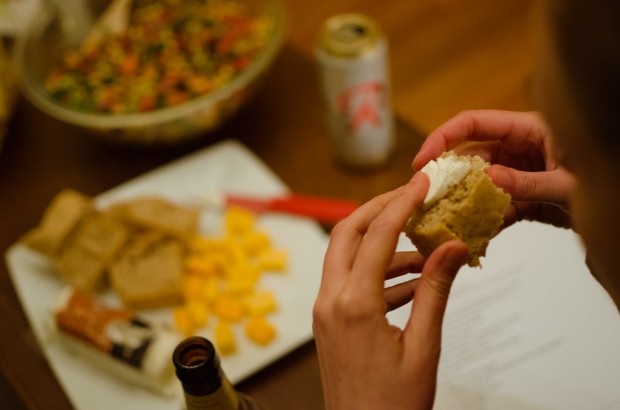 I made sure everyone studied the cue sheets.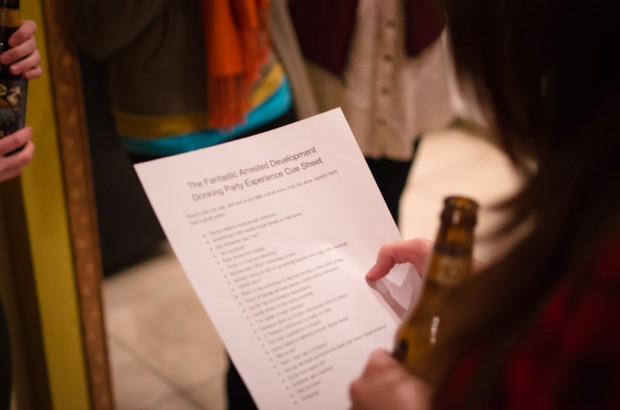 This is Jenna. She had a crazy red shirt on that looked brighter than normal because it was next to her black pants. Very clever Jenna..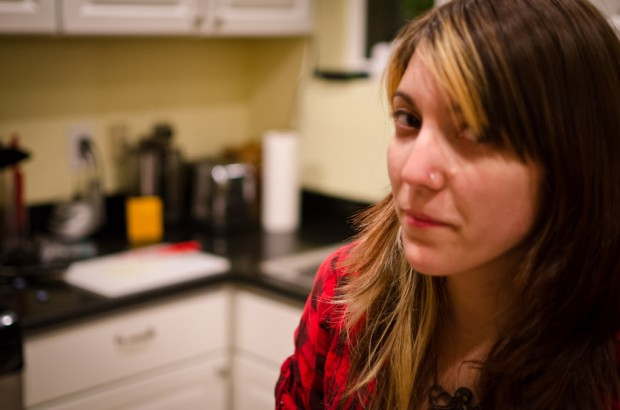 I told Page I was going to take a candid portrait of her.
Lots of black pants. So emo!
The bright red top looking bright red!
Eventually we got around to watching the show. If you're curious, here's the cue sheet we used:
The Fantastic Arrested Development Drinking Party Experience Cue Sheet
There's only one rule, and that is you take a drink every time the show repeats itself. Take a drink when:
Tobias creates sexual innuendo
Something in the model house breaks or falls down
Any character says "her?"
"No touching!"
Kitty shows her breasts
There is a hop-on reference
Michael asks "Who?" (referring to Ann)
Michael refers to Ann as something besides Ann (egg, yam, Annhog)
"STEVE HOLT"
There is any reference to Michael being a robot (not crying)
There is George Michael-Maeby relationship reference.
Lucille rips on Lindsay's appearance
Lucille drinks in the early morning
"I've made a huge mistake"
"Come on!"
Someone does a chicken impression and/or dance
A "Peanuts" reference is made or seen
The final countdown is heard
Oscar makes a fatherly remark about Buster
"Marry me"
"Well, that was a freebie"
George Michael performs his best Star Wars impersonation
An air-horn goes off
Someone gets tackled
"Hey brother"
"Annyong"