Actually I finally put them on my computer and selected a few for here.
This is what the condo looked like. We had a decent view of the Gulf of Mexico. We read that one of the condo rules was not to hang any towels on the balcony. I guess they didn't want them to obstruct the view of the Gulf of Mexico.
This is what my dad looks like when he is small compared to a lot of water.
Here my mom observed Frank in a hole.
This is Frank in a hole while my sister sits on the beach.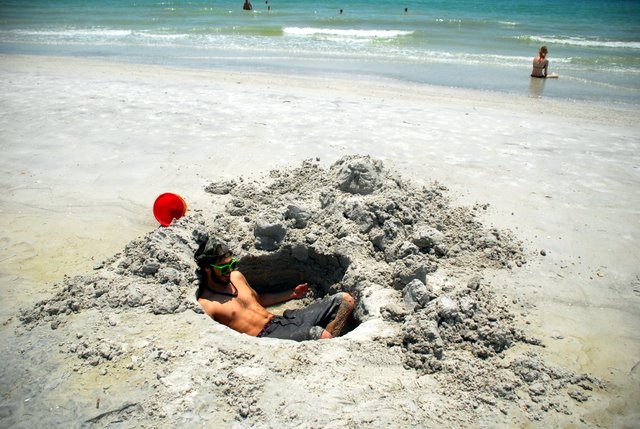 But then she came over and put sand on top of Frank.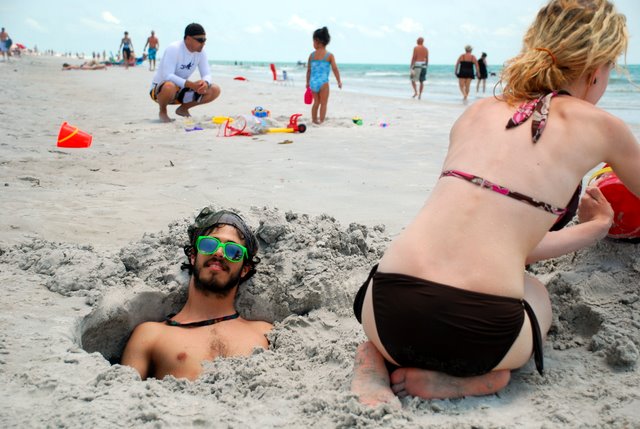 Frank struggled and struggled and it was quite intense, I think two other people watched, and then he finally emerged. Below is Frank rewarding himself for emerging.
My sister brought her Jewelry Making Stuff so that she could make jewelry and stuff. Frank also collects gems and precious stones. Together they make interesting jewelry that can be found here.
One of the days we were there we went to Fort De Soto State Park. We walked around on nature trails and it was pretty spiffy. There was a lot of Spanish moss hanging around and it almost looked like the woods were big spider hang-outs. Here my sister walked out on shallow water to look for a crab. This part of the state park is called 'Mullet Key Bayou' which I think is strange.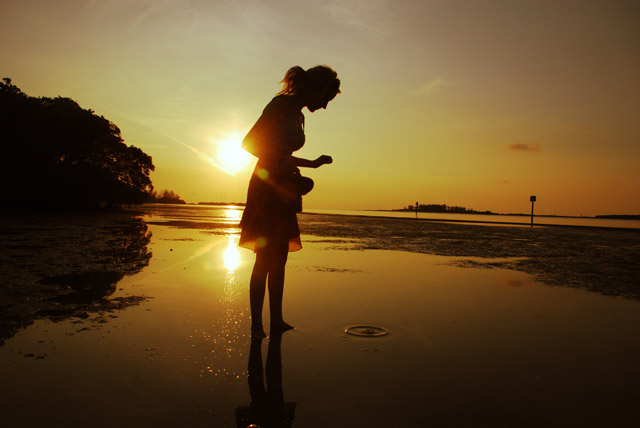 I saw a lot of big birds in Florida but I only saw two of these yellow-footed ones so they must be special and I took a picture. The angle is weird here because they actually have a very large beak, but you cannot tell because this bird was clever and looked at the camera to create an eye-trick. Also the bird had yellow circles around his or her eyes so he or she looked like a superhero bird. (But I would not trust it to rescue me).
Later at the condo we looked at a storm roll by, but it was out over the water. A little man tried to collect all his umbrellas though, which was fun to watch.
At night there was thunder and lightning happening on the other side of the condo by the street. I didn't have a tripod or anything but I was very crafty and managed to get a little bit of lightning by holding my camera steady on the railing. f/3.5, ISO 800, 1.3 sec exposure. Is that what people normally do?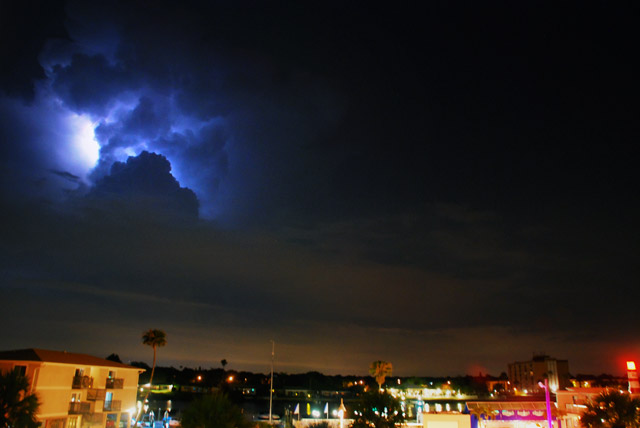 At a different day Frank was at a beach and the picture came out interesting looking.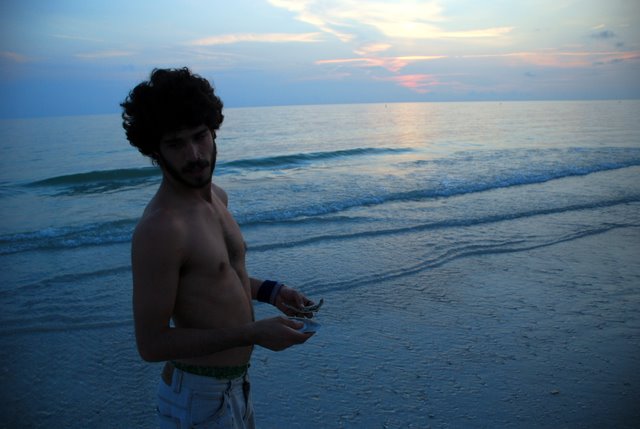 Here is what the sunsets looked like on some nights. Our condo that we rented had a swimming pool and a hot tub. I think Erin and Frank are in the hot tub.
We stayed at Indian Rocks Beach, FL (which is near Tampa, FL). But now we are all home.